So, I'm going to be volunteering with the Ministry of Stories soon, they work with kids to foster their creativity and storytelling skills and one of my jobs will be to quickly illustrate the ideas in three pictures as the children come up with the beginning of the story together. In order to practice, I used a very silly story that myself and my friend wrote when we were 16/17. (Older than the kids I'll be working with and so it's… a little bit rude… but it was a very very silly story.) I thought I would share it with you…
A STORY
By Millie Cooper and Lisa Grant
Once upon a time, there was a snow leopard. Although he was very handsomer, strong, healthy, agile, and generally a very fine specimen, he wasn't a very happy, as global warming had heated the earth and melted all the snow! Humphrey, for twas his name,enjoyed romping, humping, eating and pissing in the snow with his 'friend, he's just a friend I swear' Bob the snow badger, and so the lack of snow was seriously pissing them off. One day they decided that this insanity must end, THEY MUST GET THEIR SNOW BACK!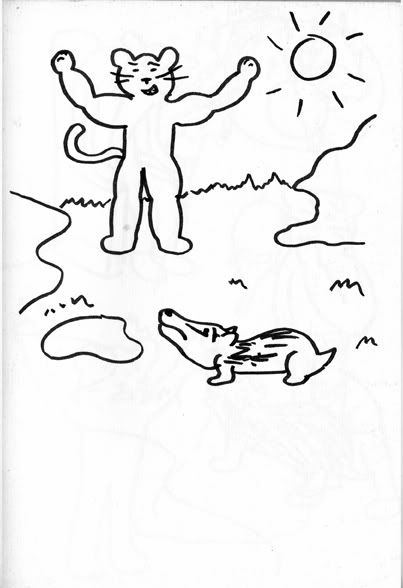 So, they went to their clan leader Zanzibob for help and advice. After spending a couple of minutes persuading him it was NOT free contraception they needed, dolling out tea and biscuits and making small talk, they outlaid the dire situation they were in. Sadly, Zanzibob, who was revered high above all other Snow Animals on account of his incredible age which stretched long past the era of machines, cornflakes and the discovery of fire, unhelpfully suggested that they went in search of the magic chipmunk from Venus and get him to bake their eyeballs with pita bread, as poor Zanzibob was quite senile by this point in his life.
After some rather rude suggestions back as to where Zanzibob could stick the afore mentioned eyes balls and pita bread (for Humphrey and Bob were getting snow withdrawal syndrome by this point) and some dolling out of a somewhat high amount of Novocain, causing Zanzibob to promptly fall of his chair with murmurs of 'Hilda! Come to me my darling', our faithful twosome realized that they were by themselves- they must get the snow back ON THEIR OWN. They decided to tackle the root of the problem - they had to confront those who had warmed up the earth and melted all the precious snow, namely: the fire leopards and fire badgers!
  However, this would not come easily. They would have to climb to the top of mount thingjimibob, and retrieve the magic drawing pin that gives the owner a lifetime of lsd type effects. If this pin could be given to the fire leopards and badgers they would no longer need to entertain themselves by torturing their innocent cousins, and could happily imagine they were living engulfed in flames for the rest of their lives.
  Humphrey and Bob began making their preparations, and packed a plentiful supply of onions, bedding and sticky tape (to remove stray fur that might fall onto their clothes making them look like unkempt vagabonds) and began their long and painful 20 minute hike to Mount Thingjimibob, which stood an immense 7 foot tall!!!!!!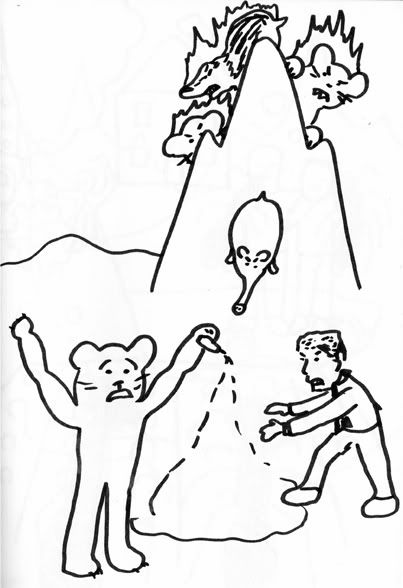 After a grueling trek (and some rather close shaves with the terrifying mountain ant eater) the finally reached the top, only to discover that the pin, wanted by all, was being guarded by the fire leopards and badgers only ally in heating up the world- the infamous georgebush Tweeny.
      Bob staggered back in fright at the sight of the terrifying creature. "We must go     back!" he exclaimed to Humphrey. "The Georgebush Tweeny is the most powerful Tweeny on Earth! He'll eat us alive!" "Not so fast!" said Humphrey, stepping forward and flexing his leopard-muscles in such a charming manner, Bob's heart went all aflutter. "He doesn't know about our… WEAPONS OF MASS DESTRUCTION!!!"
 'I thought those didn't exist' said Bob 'I thought that was only a cover up so the fire badgers and leopards to keep on buying the oil they needed to fuel their fire?'
'HAHA EXACTLY' exclaimed Humphrey, happily pulling out a large tube of lube.
Humphrey squirted the lube out into the path of the Georgebush Tweeny ("what a waste" Bob lamented as he watched the glistening substance cover the ground) and then the brave leopard jumped into the view of the hideous Tweeny and shouted, "I am a Communist!" The enraged Tweeny turned on Humphrey, running at him, all five arms waving in anger. He stepped onto the path of lube, and immediately vanished, as everyone knows that Tweenies are deathly allergic to lube (why a tweeny coming out of the closet is very rare).
 'MY HERO!' cried Bob, clasping him in a firm embrace to his bosom; the gentle strums of 'Hero' by the legendary rock band Temporarily Blank in the background. Merrily they picked up the pin and sipped gaily down the mountain, in such a light hearted manner that they didn't even notice the fruit picking gardens as they went down, thus forgetting to bring back the requested turnips and swedes for Humphrey's mother.
 Their next destination was the fiery pits of Fiery Place, where the fire leopards and fire badgers dwelled. This realm was an even further trek than that to Mount Thingjimibob - a whole half an hour's walk!!!! - But, hungry and tired, the two snow animals finally made it.
 'Jesus' puffed Bob 'I must have lost… Ohhh… 100 calories today!! It's hard work saving the world'
 After giving the password (which was 'fire'- the fire creatures were world renowned for their originality, and it was forever debated why so many intruders guessed the password first time), they walked along a corridor that looked as if it hadn't been swept for years, with all sorts of gruesome rubbish laying about the floor, and entered into the fiery caverns where Belefrond, the leader of all fire leopards and badgers lived.
 Belefrond was very old, but unlike the snow animals' clan leader Zanzibob, he was still quite a sharp old fire leopard/fire badger hybrid, although he HAD lost a lot of his eyesight. When he heard an unfamiliar patter of feet, he turned his massive toe (the left, big one) towards the sound and said, "Who is there? You do not sound like fire animals, you walk far too campy."
Amidst the sequels of indignation given off by Bob, Humphrey squared his shoulders and bravely said 'It is Us! Those who have been tortured for months by you fire creatures. We are here to offer a compromise- our snow back, in return for you're greatest wish!'
Belefrond gasped- 'You could make Esmerelda fancy me!'
'Err. No…' replied Humphrey 'there you have no hope. BUT we have upon our person the magic pin!!'
 Following this announcement, there was much excitement from the leader of the Fire Animals, complete with happy, girlish shrieks of pleasure and much flapping about of the arms and legs. "The pin! THE PIN!!!!!" The leader cried, and the sound of his voice reverberated off of the cavern walls so much so that thousands of little fire leopards noses and fire badger whiskers and pewter-eating leaf green marmoset tails (some of the fire animals had guests over) poked out to see what the fuss was all about.
 'Yes.. the pin… jeese your a sharp one' retorted Bob (who by this point had had neither sex nor snow for over a week, and was beginning to get the shakes) 'are you willing to accept our proposal??'
 "Yes! YES!!!" the leader cried with such force that Bob and Humphrey were slightly concerned that he may be having an orgasm. "Snow? You shall have your snow!!! You can have all the snow I own!!!!" and at a click of the leader's fingers, twenty thousand wheelbarrows were carted out into the largest cavern ("Whoa, that's a big cavern," Bob noted). It turned out that Belefrond was a traitor to his own kind and secretly revered snow, so kept a whole horde of it, but of course he would have given up even a hot and steamy night alone with Esmarelda for the pin, and his Fire Animals weren't going to complain about his treachery if they were allowed to use it too.
 Thus the story ended happily. Belefrond got his magic pin and Esmarelda, impressed at the giant antlers he always sported when she used the pin, decided to give going out with him a try, and found him to be a sensitive soul, who was amazing in bed. The rest of the fire animals were happy to live without taunting their gentle cousins and Bob and Humphrey, our two brave heroes, went back to romping, humping, eating and pissing in the snow will all their hearts (not before popping into Anne Summers to buy some more lube, however..).
THE END